Why Divito Lending?
Divito Lending connects real estate brokerages of all sizes to a separate, franchised mortgage brokerage. It brings opportunity to all by streamlining the barriers of entry to the mortgage lending industry. Here's how.
Out-of-the-box Franchise Model
An out-of-the-box franchise model, complete with training and support, makes it easy to get set up quickly.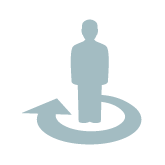 One-Stop Shop
It's completely consumer centric, offering the convenience and efficiency busy homebuyers need in a one-stop shop.
Designed for Compliance
The flexible model is designed for compliance and builds a transparent, seamless path from contract to close.
Complementary Services
Adding complementary services to a real estate brokerage creates opportunities to grow and expand the business.
Simplifies the Mortgage Process
It simplifies the mortgage process, includes access to a variety of quality loan products, and helps home sales stay on track.
Changing the Game
Franchisees will be the first to market with an innovative concept that is changing the game in lending.